Chapter Books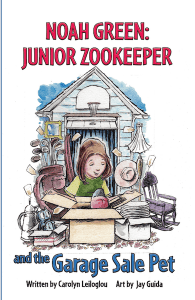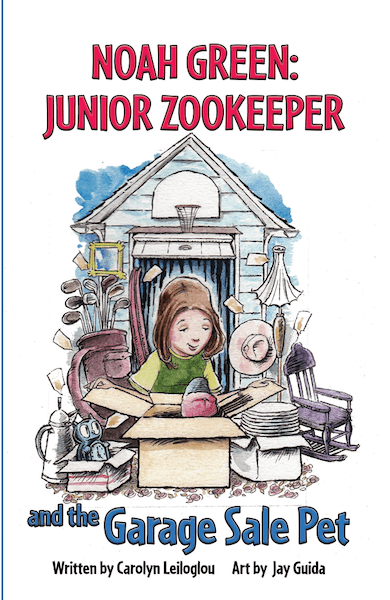 Noah Green, Junior Zoo Keeper and The Garage Sale Pet, Clear Fork Publishing, Spring 2018
Chapter book for ages 6 – 9 
Noah Green has never had a pet, unlike her best friend Carlos, and she wants a dog more than anything. But after a dog-sitting disaster, she's certain her mom will never agree to a pet. When Noah finds a mysterious critter at a garage sale, she can't believe her parents let her buy it. But her new pet won't stop growing or making mischief, leaving Noah with both a mystery and a dilemma.
"Carolyn Leiloglou is a wonderful writer. This clear, charming story will be loved by curious kids who love gentle adventures." – S.D. Smith, author of the Green Ember series
"In this well-paced chapter book, animal lover Noah Green exudes a gutsy determination to care for and keep her puzzling new pet. Young readers will enjoy the light mystery and relish the creature escapades." – Hillary Homzie, author,  Ellie May on Presidents' Day and Ellie May on April Fools' Day
Available from Clear Fork Publishing, Barnes and Noble, Amazon, or your local independent bookstore.
Picture books
Library's Most Wanted (Pelican 2020)

Anthologies
A Hug for the World Anthology, various authors, Clear Fork Publishing Spring 2018–all proceeds benefit victims of Hurricane Harvey
Awards
Finalist in the 2018 Katherine Patterson Prize for Young Adult and Children's Writing for Ruler of the Craft Table, picture book
Second place in the KidLit College 2017 writing contest–non-fiction picture book category for Gordon's Wonderland
First place in the KidLit College 2017 writing contest–chapter book category for Red and Friends: A Cape, A Troll, and Some Really Bad Soup
Honorable Mention in Suzannah Leonard Hill's 7th annual Holiday Story Contest (read my entry here)
Magazine Poems & Stories
"Snail Trail" The Caterpillar, Ireland, Winter 2016
"Brave Dandelion" The Caterpillar, Ireland, Winter 2016
"Don't Call Jack" Amazon Rapids App, March 2017
"Two Hands" Clubhouse Jr., April 2017
"Buzzing Bird" Bumples, Winter 2018
"Toes in the Sky" Wildflowers, Spring 2018
"Ninja Cat" Countdown, The School Magazine, Australia, June 2018
"Jittery Fingers" Blast Off, The School Magazine, Australia, June 2018
"Search for a Rainbow" Clubhouse Jr., June 2018
"No Time for Shoes" Wildflowers, Summer 2018
"Solar Powered" Countdown, The School Magazine, Australia
"Raindrops, Raindrops" Ladybug, September 2018
"Fall's Flavor" Wildflowers, Fall 2018
"Happy New Year" Wildflowers, Christmas 2018
"Snow Dreams" Wildflowers, Winter 2019
"Guessing Game" Clubhouse Jr., June 2019